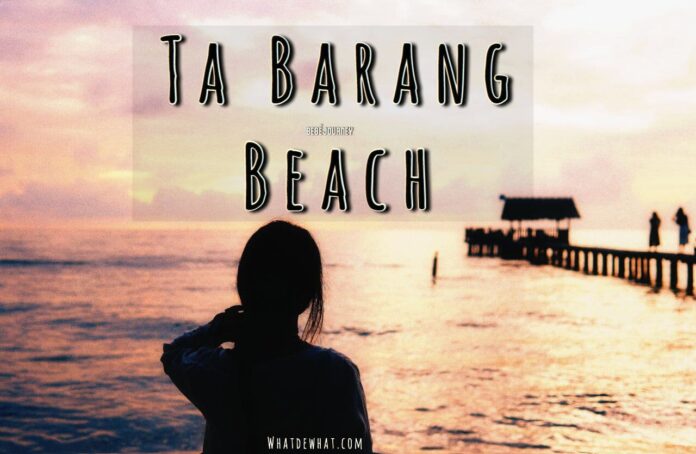 It was 5AM in the morning, I was one of a dozen people waiting in front of the bathrooms for a shower. That brought me the opportunity to have a quick conversation with Ta Barang; which is what he preferred to be called, the owner of the beach. Ta Barang, a slender-looking man yet very brawny, is in his 60s and is still working hard to maintain his beach. He is a Cambodian man who has been living in France but traveling here back and forth for his medical checkup.
Twenty years ago, nobody knew this place because the beach was deep inside a forest. Ta Barang had to travel by his boat to build this beautiful area that many people have been visiting lately. The man spent 20 years, and his hard work has paid off recently as many people have been flooding there. Ta Barang Beach is located about 190 kilometers from Phnom Penh city, and that takes about 4 hours to reach it.
During the annual staff trip at my workplace last week, I got to visit the beach that everybody has been talking about. On top of that, I got to camp for the first time as well which was a really exhilarating moment. Based on the experience of the first timer at camping; me, camping by the beach is really fun and thrilling. Well, only for those who love to experience new and adventurous things actually.
If you prefer soft beds and elegant kinds of trips, this is not the thing you want. The electricity is limited, the clean water is limited, and your phone signal wants to break up with you sometimes. You cannot straighten or curl your hair, and you might even get to skip a shower as well. I have heard people complain about discomfort, but that is all you have when you go camping. So if you think you can go through all the discomfort, Ta Barang beach is surely a great place to go camping.
It sounds unnatural for a person who always gets lost in places like I am to describe the direction. All I can tell is that the road to adventures is never smooth, especially the one to Ta Barang beach. Since there were like a hundred of us, we had to go there by big buses. You might be able to get the picture by now when I say the road was muddy and it was drizzling.
Fortunately, none of us small people had to push the bus because it was not stuck in the mud. It was a long way from the main road to the destination, it might have taken shorter if the road was better. At least it was a pleasant journey for the fact that the trees and beautiful landscape alongside kept us company. Smaller cars or motorbikes will make the trip faster, so it might take only half an hour or less.
I mention mostly camping because that is what I focus on, but you can also choose to sleep in different options as well. There are actually 3 ways of sleeping there at Ta Barang Beach: camping, sleeping under the kiosk, and sleeping in the bungalow. Any type is great depending on your preference, so let me go into detail about each one of them.
Tent
There is a large space that could accommodate our 40 tents, and each tent costs 30000Riel ($US7.5) to rent. You can also bring your own tent, and you only need to pay 20000Riel ($US5) for the space you take. The tent is very easy to set up, and you can ask the staff there to help you out as well. People there are very nice and helpful, so that shouldn't be a problem if you need anything.
Each tent is roomy enough for two or three people, and you tall people with long legs are the unlucky ones. Ha! Sleeping in the tent was the only time I appreciate being short, the space is just perfect for my height. The only drawback is that it was very stuffy inside the tent, and you might find sleeping very uncomfortable.
What To Bring
Bug Spray / Mosquito Coil: Whatever you prefer, anything that can chase off the mosquitos will do. There are a lot of mosquitos, and they are no small skinny mosquitos like the ones in the city. Beach mosquitos are really big, and their bites leave big red rashes as well. I learned that the hard way myself, it's been two days the rashes are still here. (Update: It took 9 months for the red marks to be gone, I do not know what bit me at this point.)
Power Banks: Even if you want to cut yourself off from the Internet, you still need to take photos. Plus, power banks will come in handy in case you want to use USB fans or flashlights at night. You might use up all of your phone battery playing Candy Crush on the way there, so bring your power bank.
Thick Mats/Blanket: Oh it hurts the back real bad sleeping right on the surface of our beautiful Mother Earth. Those little rocks ain't smooth, and you might need to bring something to comfort your back from screaming. Or in case you are a hardcore adventurer, you can just hug your own backpack to sleep.
The above 3 are the main things to bring, but there are other things that you should have with you as well. Those include pillows, flashlights, towels, tissues, flip-flops, hand sanitizers, and some important toiletries. Also, be careful when camping there because one of my colleagues saw a snake outside her tent attempting to camp with her. Make sure you zip the tent properly, you never know what extra legless friend comes camping with you at night.
Kiosk
There are several kiosks that you can rent for 30000Riel ($US7.5), for both eating and sleeping. Each kiosk can accommodate about 3 to 4 people, and it is somehow a more comfortable choice than camping. You are above the ground, so you don't have to worry about ants or snakes. There is also electricity that you can charge your devices which is somehow more convenient. It is out in the open so you get to feel the breeze of the sea at night. The main disadvantage is your belongings are out in the open as well, so you have to be extra careful.
What To Bring
Your Own Sleeping Gear
Those are your mosquito nets, blankets, and pillows. They have lights in each kiosk, so bringing a flashlight is optional. As for the basics, the things I mentioned in the above points are what you might need. Apart from that, everything is all good. There are beverages sold there, and the price is fairly good. The food is kinda expensive there, so you might want to consider food from other sources.
Bungalow
This is like the most comfortable and eccentric way to sleep when you are on the edge of the forest. I saw about 4 or 5 small bungalows just right behind the kiosks, and they are the coziest choice. But things like that come with a price, the bungalow is around $US60 per night. That includes a bed, a fan, and some other convenient things which require you to bring almost nothing. There are even sockets in there to charge your devices, so things are pretty comfortable in the bungalow. With that price for the convenience in the forest, that is kind of worth it.
Note: There were 8 bathrooms, and only 6 were usable when I was there. Also, you have to pay 1000Riel (0.25 cents) each time you use the bathroom. The money is used to maintain things at the beach, according to the people there.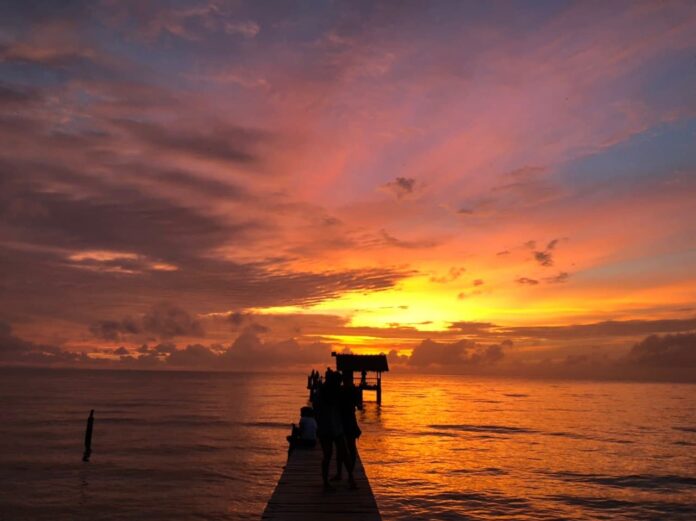 This photo does zero justice to te actual beauty of the sunset at the time, it was absolutely gorgeous
Things are very obvious when you are at the beach, but I still want to write down what to do. Well, in case there is a thing or two that you have never done or planned to do before. This might help generate some fun things while you are there. Below is the list of things I did when I was at Ta Barang Beach. Let me know which one you think is the most fun.
Swimming
I know right? Although I am not the only one who goes to the beach and does not swim, I am sure many of you like swimming. The perfect spot to do the swimming is right around the bridge from the shore to the sea. The water is clean and nice there, or you can go further on the right for less crowded swimming. I don't suggest swimming on the left side of the beach though, it is somehow not very clean there.
Walking Along The Beach
The weather was really good when I was there, so I got to walk along the beach at a great distance. It was quiet and peaceful, and the sound of waves made things even more relaxing. Plus with the cool breeze; which somehow turned my hair to hay, the whole walking moment was so luxuriating. If you plan to take a long walk, I suggest around 4. That means you can enjoy the sunset when you walk back at around 5.
Watching The Sunset
The sunset by the beach was so breathtaking no photos could do justice to its beauty. The perfect thing is that it takes quite some time before the sun completely changes shifts with the moon. That allows us to enjoy the beautiful moments even longer, especially when you have someone with you. But hey I could enjoy the sunset solo, so can the other singles out there. (I'm not jealous, not at all.) When the sun goes down, you probably should move on to another thing since you might be hungry by then.
Barbecue By The Beach
Food never tastes any better than when we barbecued it while listening to the waves and watching the sunset. It got darker and darker eventually, but we managed to barbecue the seafood and other food using our flashlights. Felt like modern-day survivors in the wild, the party was super fun. We kind of crowded the beach since there were around a hundred of us, but that was a great experience. We barbecued, we drank (a little alcohol only, wink wink), we danced, and we stayed up late. Those might have been excuses not to sleep in the stuffy tents, but the merriment was genuine.
That was one of the best parties and nights I have ever had, albeit the beach was not the most beautiful. Sometimes all you need is the right people to travel with, and my colleagues were great companies. For those who are looking for driving through the woods passing trees to camp, Ta Barang beach is your destination. I will definitely go there again if those mosquito bites didn't bring me dengue fever or malaria. Look at the bright side, I had a really great experience; and that is the thing that counts when I travel.
Related Post: Escape To Kampot At The Weekend