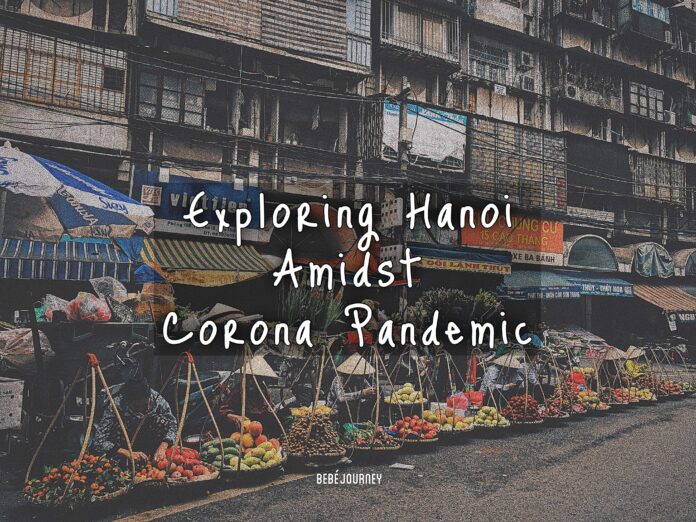 It is not the first time people called me insane, and this one is probably the worst of them all. I booked a flight to Hanoi when people were scared to get out of their houses to public places. I don't know, but the pandemic was not really something that could stop my itchy feet from jumping on the planes. Plus, Hanoi was quite under control when I booked the flight. Who knew there would be a lady who went to France, Italy, and England, then brought the virus back to Hanoi. And who knew she was tested positive the same day I landed in the city. Not a pleasant coincidence, but I still got to enjoy my solo trip there actually. In case you want to explore this beautiful city after the pandemic, here's my experience there.
Day 1: Hanoi Old Quarter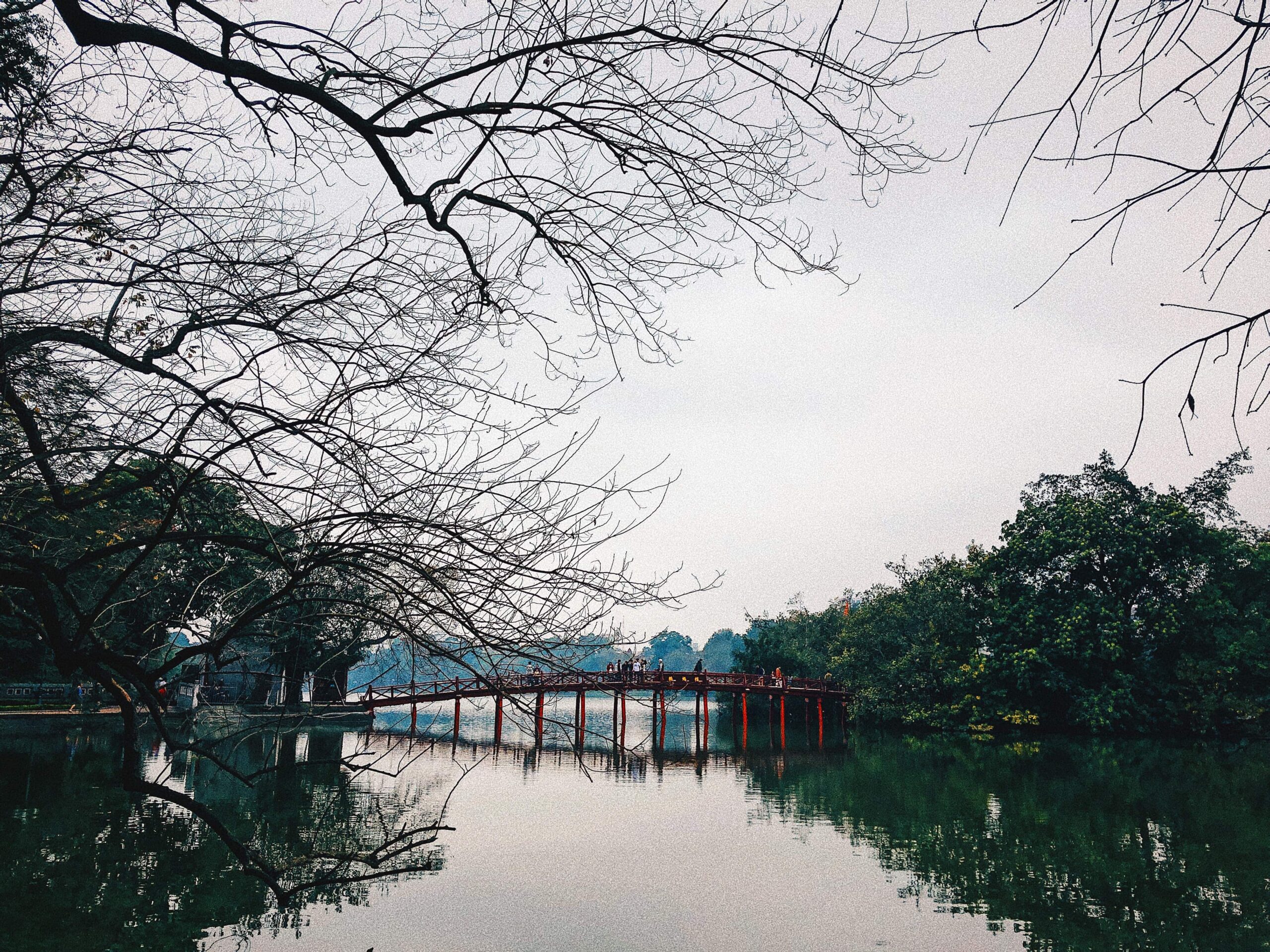 So I arrived in Hanoi at 9PM on Friday. It was too late, and I was also too tired from catching planes. My first day started on Saturday morning, and it was quite a busy day. Since I love walking, I mostly walked the entire time from one place to another. My tour began after breakfast at a local shop followed by a cup of egg coffee. Great way to start a morning, indeed.
Hoan Kiem Lake
Opening Hours: Monday – Sunday (8AM – 6PM)
Ticket Price: 30,000 VND ($1.30 USD)
Meaning "Lake of the Returned Sword", Hoan Kiem Lake is one of the wonderful historical places in Hanoi. The lake is in the center of other attractions of the city, and it draws many visitors every day. The lake is surrounded by trees and benches, creating a tranquil atmosphere that took my stress away. There is a small island known as Jade Island in the center of the lake with an ancient building called the Turtle Tower. Speaking of turtles, the lake is associated with large soft-shell turtles that people have seen for years. If you are lucky, you might get to see one of them.
As for the red bridge that you see is the route to the Ngoc Son Temple, an ancient temple built in the 18th century. Inside the temple, you will see people both local and international praying for happiness and luck with great respect. The interior architectural design of the temple is stunning, and the statues inside are marvelous. The coolest part was the preserved artifacts along with historical information put on board from the ancient time for us to read. My most favorite artifact was the preserved specimen of a giant turtle once found, weighing 250kg.
Hoan Kiem Lake is beautiful both daytime and nighttime, and Fridays to Sundays are the best time to visit. One thing I love about it is the good weather in March, not too hot and not too cold. Just perfect to walk around and chill, watching people doing exercise and blending in. At nights, there are lights that brighten up the beauty of the lake and the temple to another great level. However, you will also find a lot of couples kissing and stuff, so be aware of that. As a solo traveler, I don't really enjoy seeing such scenes. It hurts my feeling lol.
Hanoi Opera House
Opening Hours: Monday – Friday (10:30AM – 12PM)
Ticket Price: 400,000 VND ($17.35 USD)
I walked to the Hanoi Opera house which was not too far from Hoan Kiem Lake. It is the biggest theater in Vietnam built in 1911 by the ruling French back then. I could only admire the building from the outside because I had to purchase a ticket to go inside. That would be awesome to watch the performance, but I kinda needed to avoid the crowd during that time. I actually could buy the ticket to visit, but the opera house only opens for visits from Monday to Friday. I was there on a Saturday, such a bummer.
Vietnam National Museum of History
Opening Hours: Monday – Sunday (8AM – 12PM & 1:30PM – 5PM)
Ticket Price: 40,000 VND ($1.73 USD)
I love history, and visiting museums is part of my interests when I travel abroad. This museum is actually at the back of the opera house, and I spent about one hour there. There are highlights and displays of exhibitions and items from the 3rd Century BCE to the 19th Century. I personally like this museum because it does not only show the history of Vietnam but also of other countries. There are items from Dong Son culture, Hindu statuary from Khmer and Champa kingdoms, and many more. It was quiet and interesting, and it was fun to see unusual statues and other tools from ancient times. If you like museums and history, you will definitely like this Vietnam National Museum of History as I do.
Dong Xuan Market
Opening Hours: Monday – Sunday (6AM to 7PM)
This is the market where you can find almost anything, and also the best place to get souvenirs as well. With Soviet-style design, Dong Xuan market is the oldest and largest indoor market in Hanoi. Very similar to Cambodia's Orussey Market, Dong Xuan market offers a variety of items for both locals and tourists to buy. Some parts of the ground floor are the section where you can find seafood, meat, and vegetables. From the second floor on, you will find numerous stalls that sell souvenirs, clothes, handicrafts, and more. Coming to a market like this, you have to make sure that your bargaining skill is on point. We Asians somehow love to overcharge tourists, so don't forget that part.
The choices do not end there, there are more things to see outside the market. Surrounding Dong Xuan market are many more shops where you can find more food and souvenirs, even pets. The thing that you have to try when you go to Dong Xuan market is definitely the local food. You can taste a variety of Vietnamese food and drinks for the price as low as 15,000 VND ($0.65 USD). Go no further if you seek to explore the culture and life of the local Vietnamese at their best. This market offers pretty much everything, and no doubt why it is one of the best attractions to visit in Hanoi.
Day 2: Exploring Train Tracks
There were actually a lot of places that I planned to visit in Hanoi. However, some streets were blocked due to the coronavirus outbreak in the city the day I arrived. On the second day, a Vietnamese friend of mine offered me a tour around the city on his motorbike. We drove past Ho Chi Minh Mausoleum, but we did not get to go inside because of the outbreak. So we drove around West Lake, it was very peaceful there which was somehow a great escape from the city. The journey of my exploration began there.
Long Bien Bridge
Opening Hours: Monday – Sunday
This is the bridge with unique historic, architectural, and cultural value which had been bombed multiple times during wars. I was impressed when I found out that this bridge was designed by Gustave Eiffel, the builder of the Eiffel Tower. Many people visit this oldest bridge in Hanoi every day, and it is also a great place to watch sunrise and sunset as well. There are also vendors that sell snacks and drinks under the bridge in case you are hungry or thirsty.
You will see people climbing to the middle of the bridge to take photos on the train track. It is actually very dangerous to do so, and there are barriers along the sides to warn people not to take photos. Probably that was the reason why I did not stop to take any pictures. It was a nice experience to see this bridge. I heard that it is more beautiful at night with the lights, and I'll definitely go back again to see that next time.
Hanoi Train Street
My apartment is 3 minutes walk from the famous Hanoi Train Street. I heard the train honking every hour when I was in my room, and I definitely had to check it out. There were coffee shops along the railway with small chairs and tables facing that railroad. I went to a small coffee shop, ordered a glass of iced tea, and waited. About 10 minutes later, there was a low rumble. People around me got their phones ready to take videos. The train came in sight, honking, passing us, so close, and that is what makes it an exciting experience. It was a nice evening but there were a lot of people there, and I don't really like crowded places.
So I came back to the train street again at night with 2 Vietnamese friends of mine. I must admit, I liked the atmosphere better at night. It was more peaceful and quiet, and there were fewer people. We picked a container-designed mini pub, went up to the second floor, and ordered our drinks. It was windy, and the weather was quite cool which was simply perfect for relaxing. As the clock hit 10PM, the locals started yelling at their kids and their pets to stay clear from the rail. Came the train, so close I could touch its roof from the balcony of the pub. We stayed there till the second train came before we left at around 11PM-ish. The experience was spectacular, and I will definitely come back to this street again.
Day 3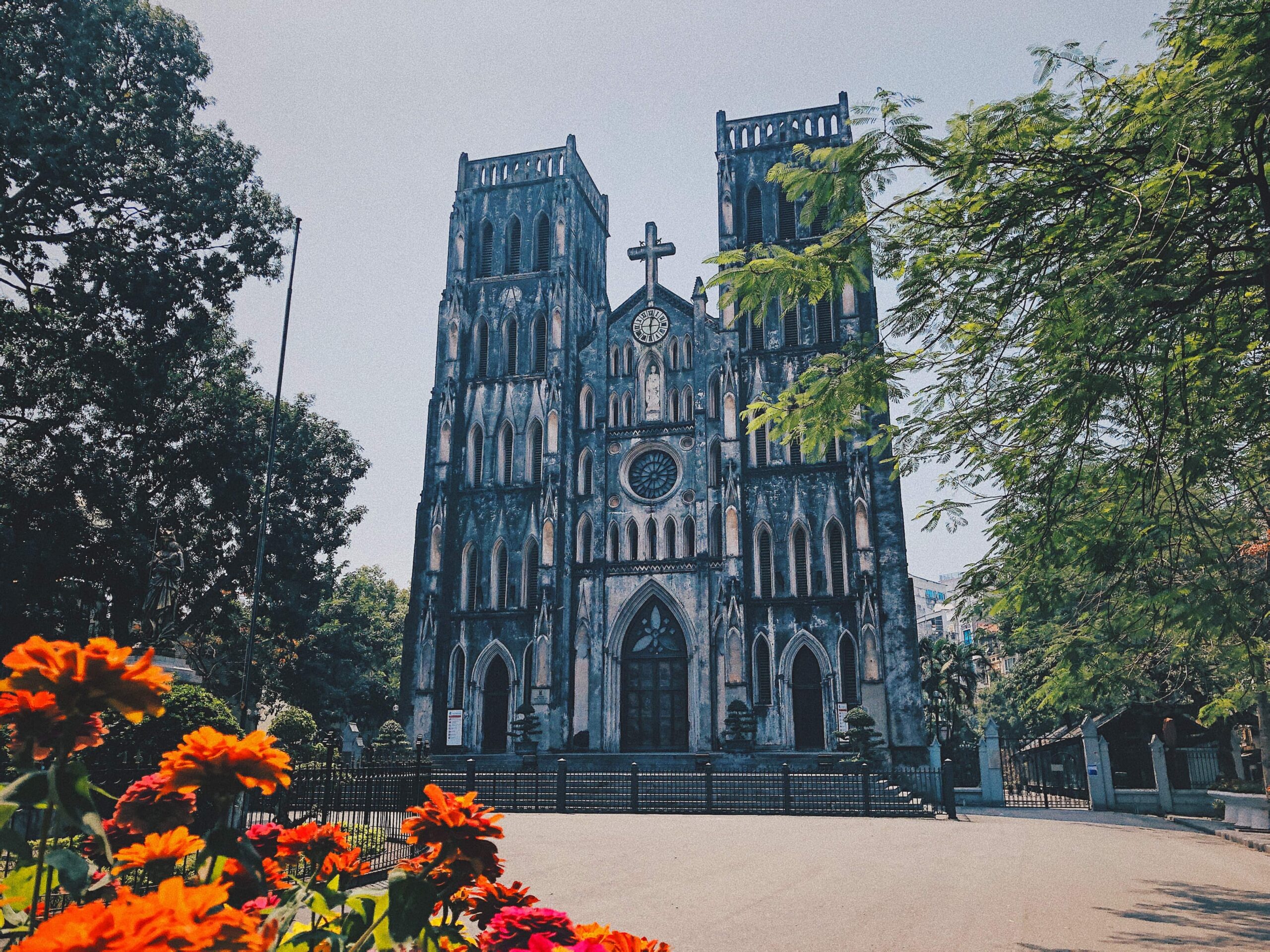 I came back home today, but my flight was in the evening so I had some time to explore the city. I checked out at 12PM, and I walked around the city chilling. It was quite sunny on that day, so walking was not pleasant actually. My first and only new destination on my last day was the cathedral, and it was amazing.
St. Joseph's Cathedral
I reached the cathedral at half past twelve at noon which was the closing time. There were not so many people there, and that made it super easy to take good pictures of the church. As a bit of a goth myself, seeing this late 19th Century Gothic Revival church was absolutely gratifying. I wish I could make it there earlier so that I could see the interior beauty of this oldest church in Hanoi. The Neo-Gothic style of the church makes it so unique and astounding to see, and I stayed there for quite a while. There are also some benches around the outside space where tourists can sit and rest. Around the cathedral are some small stores that sell souvenirs and local products that you can buy. I got myself an anklet for 30,000 VND in one of the stores, and that was it.
Local Food & Drinks I Had In Hanoi
Local food and drinks are one of the crucial aspects that make traveling tasteful. There are many meals and beverages that you can find in Hanoi, and I got to taste some of the best. Here are what I had:
Egg Coffee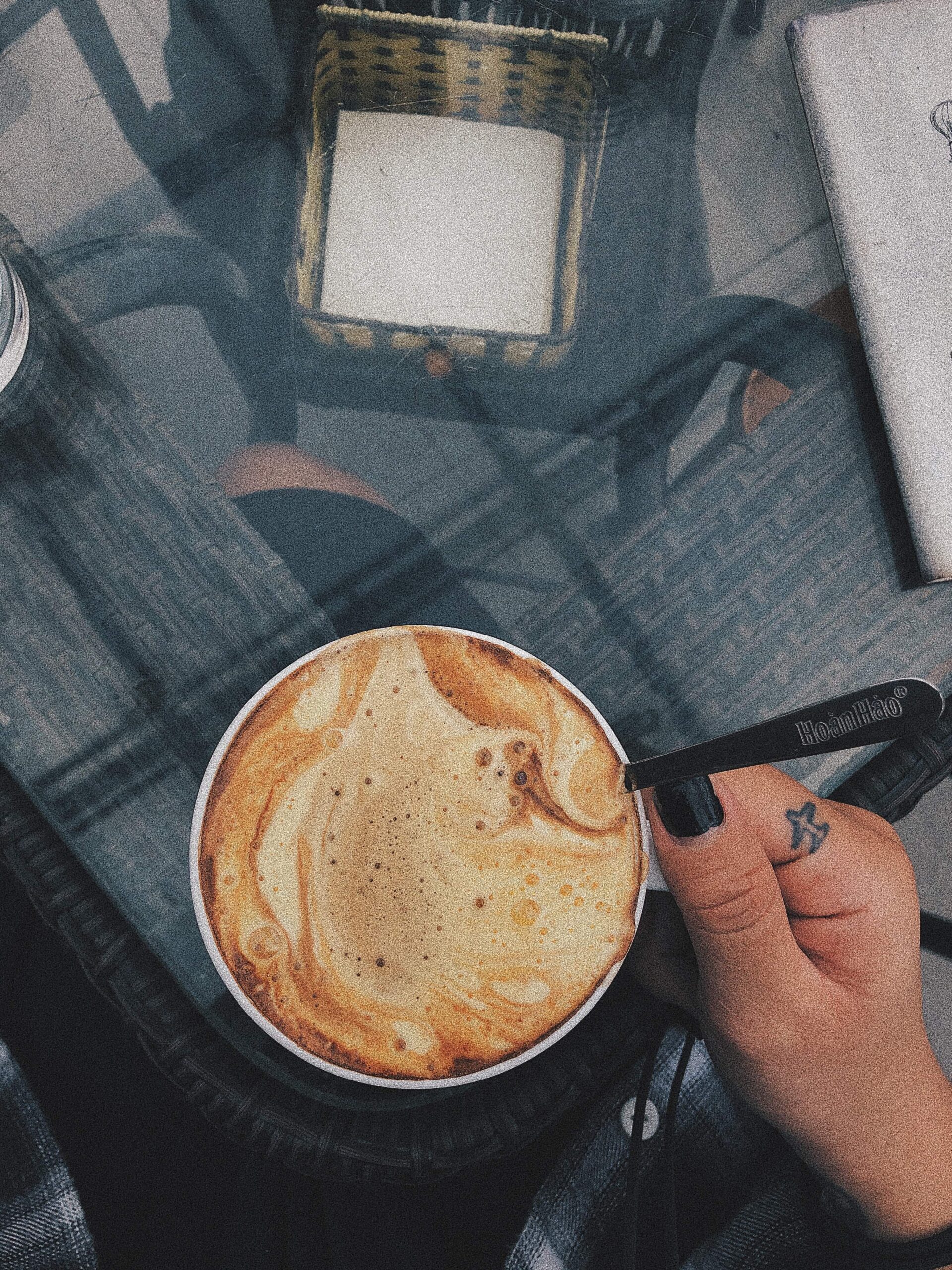 Price: 45,000 VND ($1.95 USD)
I am 100% a tea person and I never drink coffee, but we have to step out of our comfort zone sometimes. Egg coffee is foamy coffee with this unique taste that is a little bitter at first and then tasty after. I could only finish half of the cup which was mostly the egg because the other half was way too bitter. I think I can drink more of that next time I go there. If you are a coffee lover, you definitely have to try this egg coffee.
Xoi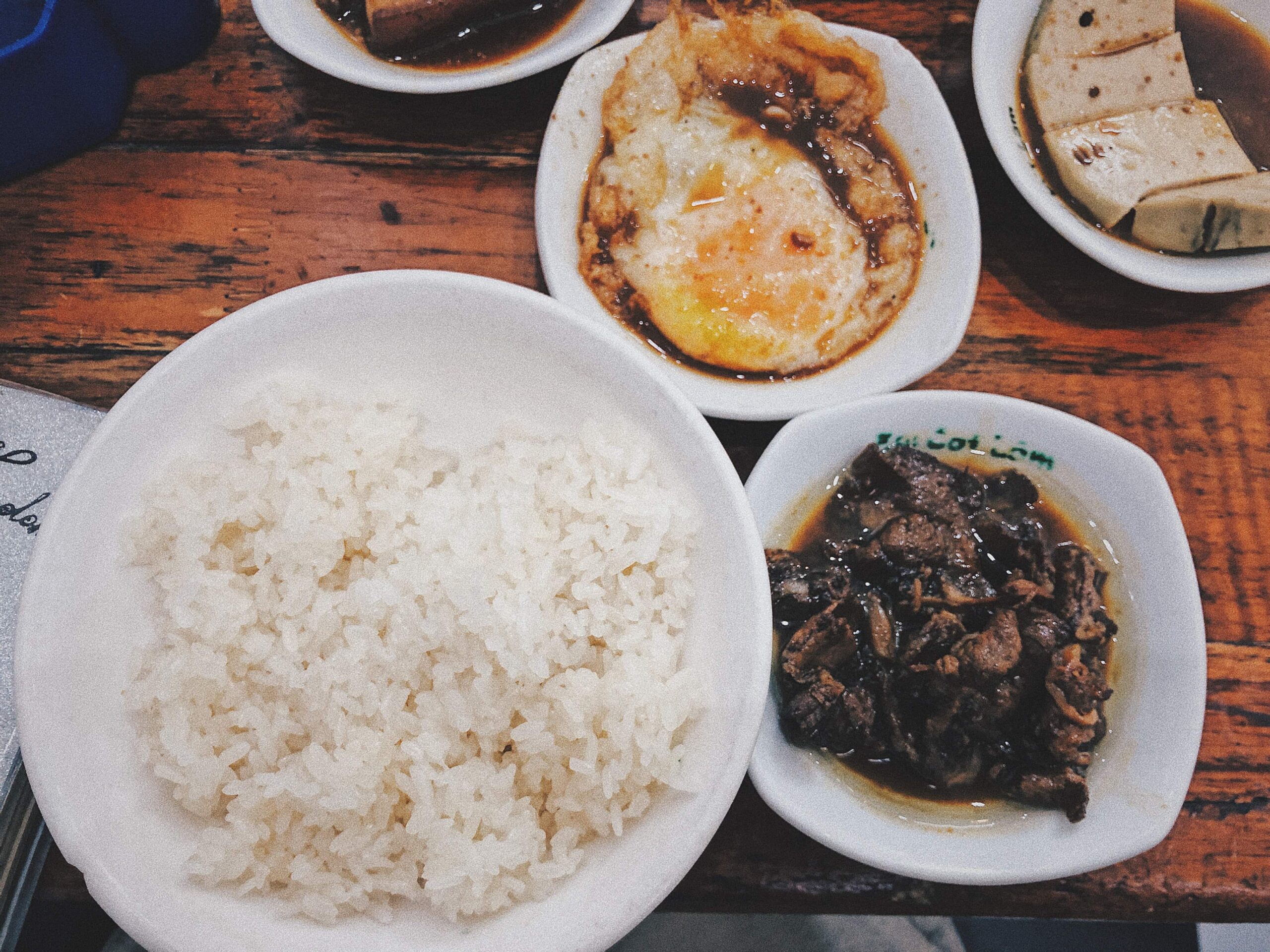 Price: 40,000 VND ($1.73 USD)
Xoi, meaning Sticky Rice, is a Vietnamese daily dish that people usually have for breakfast. There is a variety of toppings and side dishes that you can eat with xoi including pate, chicken, fried eggs, etc. I chose pork and of course, fried egg, and it was one of the best breakfasts I have ever had. Normally sold by street vendors along the sidewalk, xoi is the perfect meal to start the morning in local style. That little bowl of sticky rice got me full till evening, it was so worth it.
Banh Cuon
Price: 40,000 VND ($1.73 USD)
We have this in Cambodia, but it tastes a hundred times better in Hanoi. The ones I've had in Cambodia are made in advance, but this one is made once I ordered. That makes it fresher, tastier, and simply more satisfying to eat. It is a light dish, and it makes a great snack to have any time of the day. Banh Cuon is a thin sheet of steamed rice flour that wraps around seasoned ground pork and minced mushrooms. There are about 5 or more of those thin sheets per plate with several pieces of pate on the side. On the table is a pot of sauce that we can serve ourselves in a small bowl to dip the banh cuon in. This is probably the food that I miss the most in Hanoi, I really liked that one.
Bun Dau Mam Tom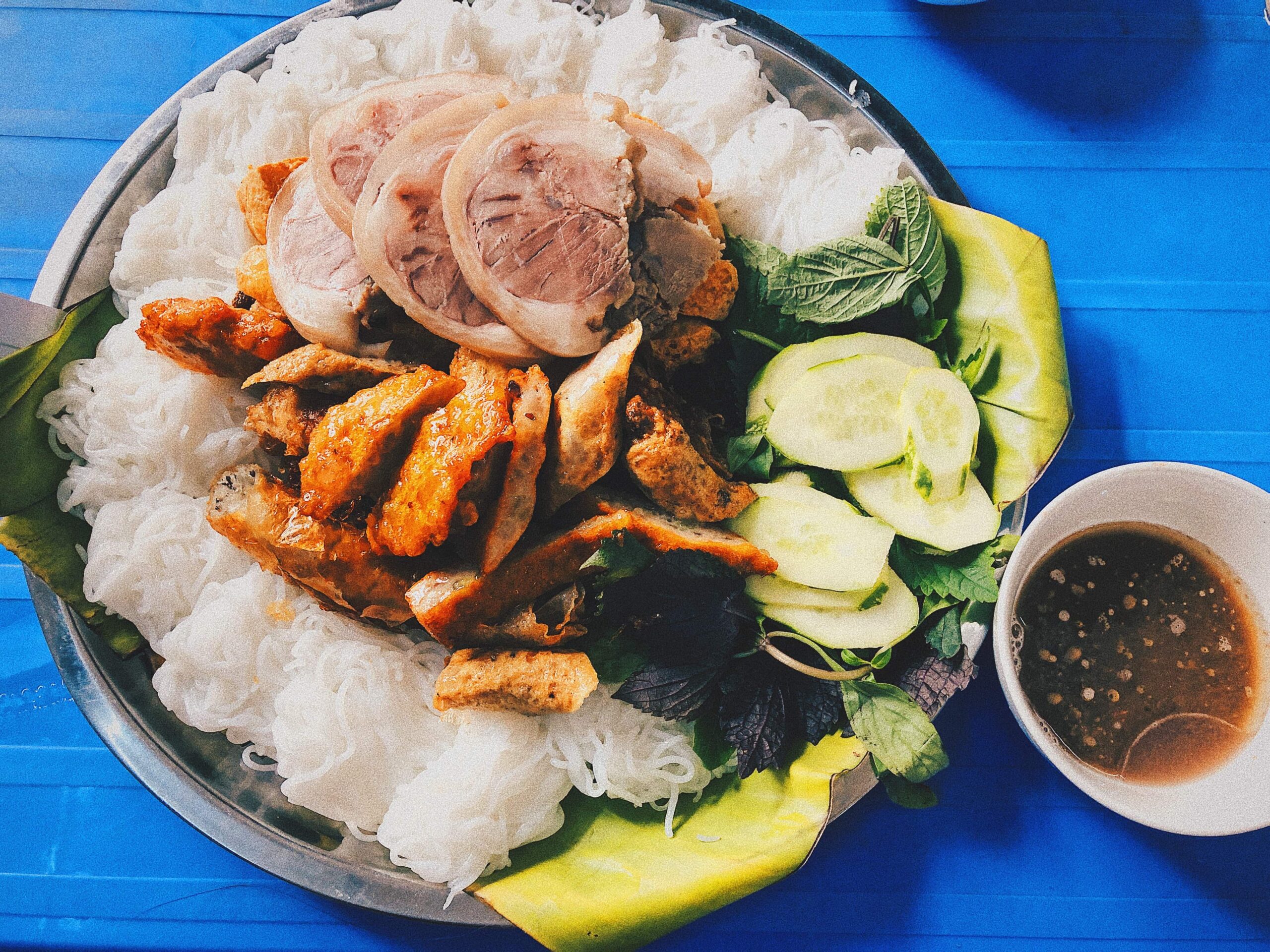 Price: 85,000 VND ($3.69 USD)
Stinky yet tasty, bun dau mam tom is one food that got me so far out of my comfort zone. The name of this dish tells you what you are going to eat on the tray. Yeah, they serve it on a round steel tray instead of a plate. "Bun" is like Khmer rice noodles, "Dau" is tofu, and "Mam Tom" is fermented shrimp paste. In addition to the 3 main ingredients, they also serve it with pork and sausages, with fresh vegetables on the side.
The sauce is tasty, but a little too salty for me although I squeezed some limes and put a lot of chilis in it. Bun Dau Mam Tom tasted great, but the smell was so strong I could never finish that tray. The good part about it though, was the seller gave me some mint before I left. Oh, that helped so much with the smell, gave me back some confidence to talk. I think this large serving is ideal for at least 3 people, and the price is very inexpensive.
Where I Stayed In Hanoi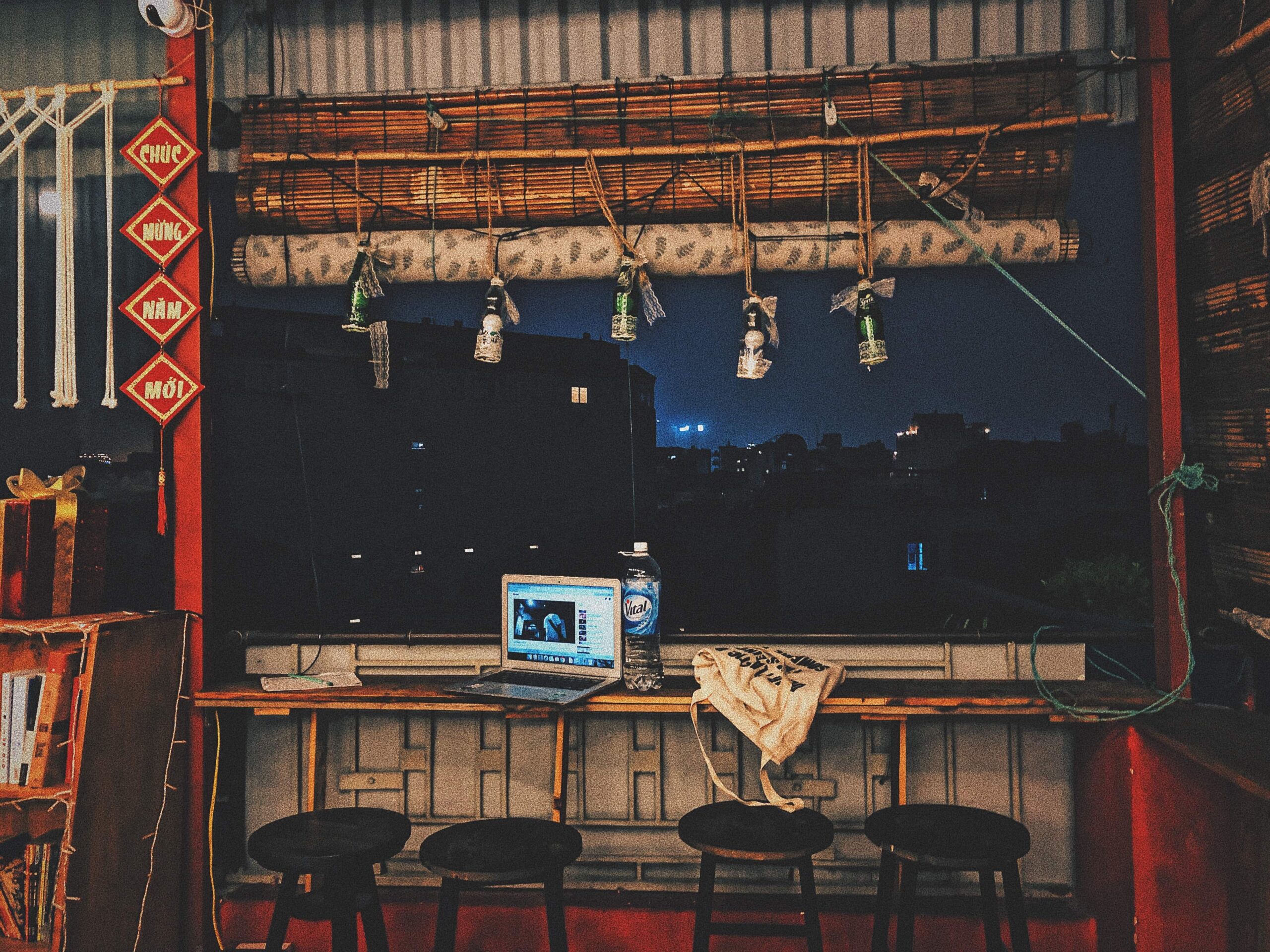 I booked an apartment on booking.com, and the location was great. My apartment was in the middle of the attractions which I could easily access by just walking. The best part about my apartment was the rooftop of the sixth floor with minibar. I was there during the full moon, and I could stay up there and enjoy the view at night peacefully. The host was very friendly and helpful, and the price was also acceptable for a 3-night stay. The place is highly recommended.
After I left the cathedral, I walked back to the Old Quarter before I took the taxi to the airport. It was a wonderful journey, and I could have gone to more places if there hadn't been the virus outbreak. The government closed some streets, and I missed several good places that involved being in crowds. The good thing was that I had way greater time in Hanoi than I when I was in Saigon, obviously. This city is safer, cleaner, and more reposeful, simply my kind of vibe to escape to. Once the pandemic ceases, Hanoi will be the first city that I come back to. I need more Banh Cuon in my life 😀
Budget Breakdown For 4 Days
Food & Drinks: 474,000 VND ($20.55 USD)
Taxi: 636,000 VND ($27.58 USD)
Apartment: 1,438,290 VND ($62 USD)
Flight: $158 USD ($78 Round Trip Siem Riep – Hanoi) & ($80 USD (Round Trip PP – SR)
Others: 261,000 VND ($11.32 USD)
Total: $359.45 USD